Brisbane, Queensland, Australia, Latitude 27°S 23' 52", Longitude 152° E 55' 35", Elevation 76 m
Sun 9 Aug 2020 12:40:02 am: Temperature: 14.5 °C, Humidity: 68 %, Wind speed: 3 km/h, Wind Gust: 2 km/h, Rain today: 0.0 mm, MSLP: 1013.82 hPa
Website under continual development from 10 years of weather data. Please contact us if you find issues or like to provide feedback.
Dark Sky Forecasts
Dark Sky Forecasts
On this page is forecasting produced by Dark Sky. These forecasts incorporate data from some of the major computer models, but not all the necessary computer models. This information should be used with caution and is not to be considered official information or be relied upon. For all official weather information please refer to the Bureau of Meteorology.
Regional Dark Sky forecast map courtesy of Dark Sky. The drop down menu allows to select a weather variable such as Temperature, Wind and Barometric pressure. You can also zoom in and out and drag the map to other areas.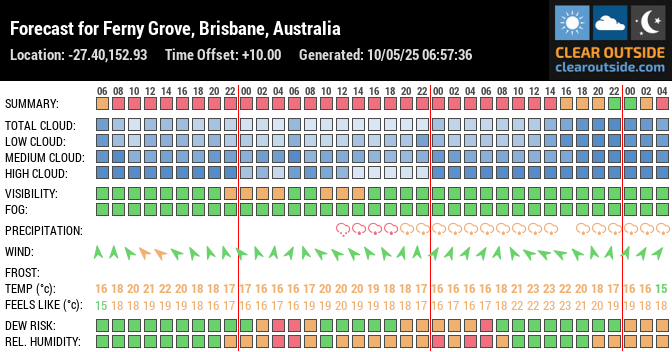 Astronomical Forecast courtesy of Clear Outside by First Light Optics. The update frequency is every hour.